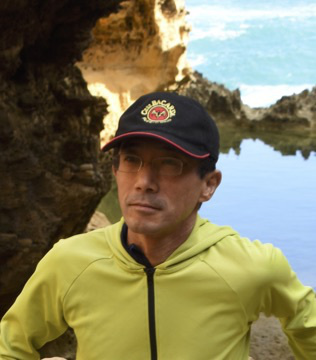 Professor, Dr. Keiichi WADA,
who has been working on theoretical astrophysics, especially on galaxies, interstellar medium, and Active Galactic Nuclei.
1965 born in Nemuro, Hokkaido
1989 Tohoku University, Department of Physics (dai-ni)
1993 Hokkaido University, Graduate school of Science, Dr.Sci (Hokkaido University)
1994-1997 Hokkaido University, Center for Information Processing Education (Assistant professor)
1997-2009 National Astronomical Observatory of Japan, Division of Theoretical Astrophysics (Assistant professor/Associate Professor)
1997-1998 Associate research scientist, Johns Hopkins University/Space Telescope Science Institute
2000-2001 Visiting Professor, University of Colorado, Center for Astrophysics and Space Science
2009 - present Kagoshima University (Professor)
| | |
| --- | --- |
| 2017.11.30 | A paper by KW and Fukushige (M2 student) et al. accepted by publication in Astrophysical Journal |
| 2017.3.16 | KW gave a talk at Annual meeting of Astronomical Society of Japan |
| 2016.11.10 | Colloquium at Swinburne University of Technology, Center for Astrophysics and Space science (Wada) |
| 2016.10.1-2 | SWANS/SNAWS meeting at Yamato Musium, Kure, Hiroshima    (Wada) |
From recent papers
Wada, Fukushige, Izumi, & Tomisaka
"Circumnuclear Multi-phase Gas in Circinus Galaxy I: Non-LTE calculations of CO lines"
Astrophysical Journal in press
In this study, we investigate the line emissions from cold molecular gas based on our previous ``radiation-driven fountain model'' (Wada 2016), which reliably explains the spectral energy distribution of the nearest type 2 Seyfert galaxy, the Circinus galaxy. Using a snapshot of the best-fit radiation-hydrodynamic model for
the central $r ¥le 16$ pc, in which non-equilibrium X-ray-dominated region chemistry is solved, we conduct post-processed non-local thermodynamic equilibrium radiation transfer simulations for the CO lines.